Friday, October 6, 2023

11:00 a.m. - 4:30 p.m.
Registration is required.
To reserve a spot, register online or call 800.633.1175.
Trouble submitting the registration form? Scroll up and ensure all required fields have been completed.
Schedule of Events
* Schedule subject to change *
All activities are held in the J.W. Jones Student Union unless otherwise specified.
Time
Activity
11:00 a.m.
Check-In
11:30 a.m.
Lunch
12:15 p.m.
Admissions Presentation & Scholarship Information
1:00 p.m.
Campus Walking Tour
2:30 p.m.
Academic Departmental Information


Facility Tours (including a backstage tour)
Meet Theatre Faculty and Current Theatre Students
Receive Information on all possible Theatre Majors and Minors
Participate in Q & A Sessions with Faculty, Students, and Advisors
Participate in Activities led by Theatre Student Leaders

4:30 p.m.
Visit Day Wrap Up and Optional Theatre Scholarship Auditions


Any final questions about Northwest?
Visit Day Questionnaire & get your t-shirt
Optional Theatre Scholarship Auditions (arrange in advance by contacting Dr. Joe Kreizinger at jkreizi@nwmissouri.edu)
Thank you so much for visiting!
Individual academic appointments are not available during Discover Your Major visit days. If interested in scheduling an appointment, please refer to our Daily Visit.
---
Additional Opportunities
Scholarship Auditions
Optional Scholarship Auditions at 4:30 p.m. for seniors majoring in theatre, performance theatre, technical and design theatre, or theatre education. Contact Dr. Kreizinger at jkreizi@nwmissouri.edu to make scholarship audition arrangements.
First-Year Student Play

Prospective students and their families who attend our October 6 theatre visit day are invited to attend the 2023 First-Year Student Play (LAUNCH DAY by Michael Higgins) that evening as our guests. The play production begins at 7:30 p.m.
To arrange for your complimentary seats, please contact Dr. Joe Kreizinger (jkreizi@nwmissouri.edu) at least a week in advance as seating is limited.
Description
Explore majors in Theatre where we offer a Bachelor of Science in Theatre Comprehensive major that includes two tracks to choose from Performance and Technical Theatre and Design and a Bachelor of Arts in Theatre. Both include interacting with current Northwest faculty and students. 
You will have the opportunity to:
Talk with the department faculty and students majoring in related fields
Learn about careers in Theatre
Tour our classrooms
Explore the Northwest Campus
Learn more about:
Career Ready. Day One.
Northwest ensures students are career ready, day one through internships, field experiences and networking opportunities. Read Shawn's story »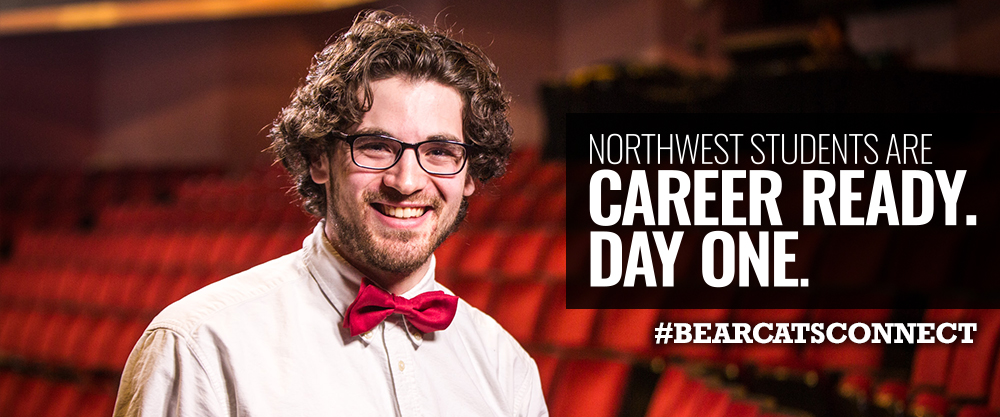 Shawn Murphy
Theatre: Performance