Music Discover Your Major Visit Day
Thursday, March 5, 2020
9:00 a.m. - 3:30 p.m.
Registration is required.
To reserve a spot, register online or call 800.633.1175.
Explore majors in Music and Music Education, which includes interacting with current Northwest faculty and students.
Overview
The Department of Fine and Performing Arts is committed to excellence in music and music education. Our music faculty are outstanding performers and teachers, and our music graduates are given a wide variety of experiences to prepare for their chosen professions upon graduation. During the Music Visit Day, prospective students will have opportunities to sit-in and sing/play with our ensembles during their rehearsal time, meet one-on-one with our faculty, and take a campus tour. We look forward to meeting you at the Northwest Music Visit Day!
You will have the opportunity to:
Interact with music faculty and students majoring in related fields
Learn about careers in Music and Music Education
Tour our classrooms
Explore the Northwest Campus 
Learn more about:

Admission requirements
Scholarships
Living on campus 
Student organizations, meal plans and more!
Career Ready. Day One.
Northwest ensures students are career ready, day one through internships, field experiences and networking opportunities. Read Dalton's story »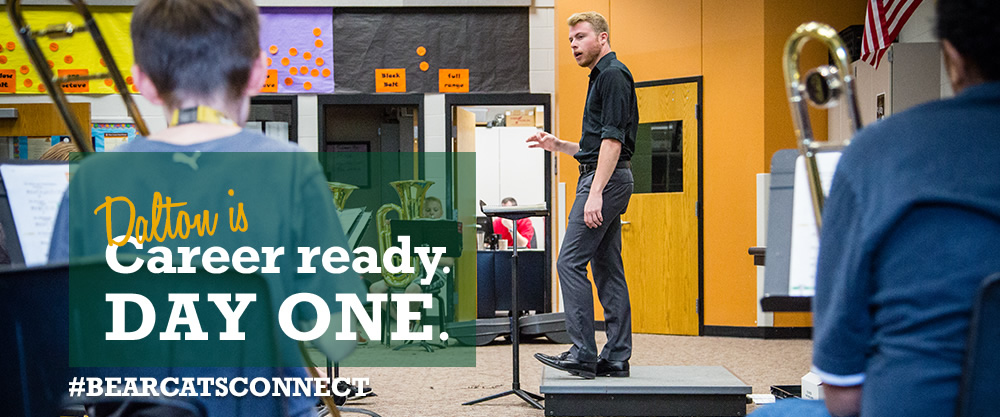 Dalton Haberman
Instrumental Music Education
Schedule of Events (tentative)
* Schedule subject to change *
All activities will be in Olive DeLuce Fine Art Building unless otherwise noted.
Feel free to attend the sessions you feel are helpful.
Time
Activity
Location
9:00 a.m.
Check-In
J.W. Jones Student Union, 3rd Floor
9:30 a.m.
Welcome and Admissions Information
J.W. Jones Student Union
10:10 a.m.
Music Program Information
Charles Johnson Theatre
10:50 a.m.
Morning Auditions
Vocal Students
11:00 a.m.
University Chorale
Olive DeLuce Fine Arts Building
12:00 p.m.
Lunch
J.W. Jones Student Union, Bearcat Commons
1:00 p.m.
Campus Walking Tour
2:30 p.m.
Final Questions and Depart Campus
Olive DeLuce Fine Arts Building
Instrumental Students
11:00 a.m.
Lunch
J.W. Jones Student Union, Bearcat Commons
12:35 p.m.
Wind Symphony
Olive DeLuce Fine Arts Building
2:00 p.m.
Campus Walking Tour
3:30 p.m.
Final Questions and Depart Campus
Olive DeLuce Fine Arts Building
*Additional opportunities:
3:00 p.m. - Celebration
4:10 p.m. - Symphonic Band