Natural Sciences, Health Science and Wellness Night in Kansas City
Tuesday, November 7, 2023
Northwest-Kansas City (Gladstone, Missouri)
6:00 p.m. - 9:00 p.m.
Registration is closed.
Description
Live in the Kansas City area and interested in studying science or health at Northwest? We are bringing our Discover Your Major Visit Day to you!
This visit day will be held at Northwest-Kansas City in Gladstone, Missouri. It is intended for students who are interested in Northwest and wish to learn more about areas in the Department of Natural Sciences and/or the School of Health Science and Wellness. Majors of interest may include:
Natural Sciences
Biology (general, cellular/molecular and biomedical sciences specializations), Biology: Biomedical Sciences (pre-chiropractic, pre-dentistry, pre-medical, pre-optometry, pre-physician assistant and pre-veterinary specializations), Biology/Psychology, Biology Education, Biomedical Sciences: Chiropractic, Chemistry (general, biochemistry, ACS certified specializations), Chemistry Education, Clinical Laboratory Science, Echocardiographic Sciences, Marine Biology, Pre-Dental Hygiene, Pre-Nursing, Pre-Occupational Therapy, Pre-Osteopathy, Pre-Pharmacy, Pre-Physical Therapy, Pre-Podiatry, Pre-Radiology, Pre-Respiratory Therapy, Radiologic Science, Sonographic Sciences and Wildlife Ecology and Conservation. 
Health Science & Wellness
Applied Health Science (aging studies, exercise science, health coaching and sports medicine specializations), Food & Nutrition (dietetics and general specializations), Physical Education, Pre-nursing and Recreation (corporate recreation/wellness, recreation & park management, sport management and therapeutic specializations).
Registration is closed.
You will have the opportunity to:
Interact with departmental faculty and students majoring in related fields
Explore careers in the previously mentioned majors
Learn more about:
Career Ready. Day One.
Northwest ensures students are career ready, day one through internships, field experiences and networking opportunities. Read Joe's story »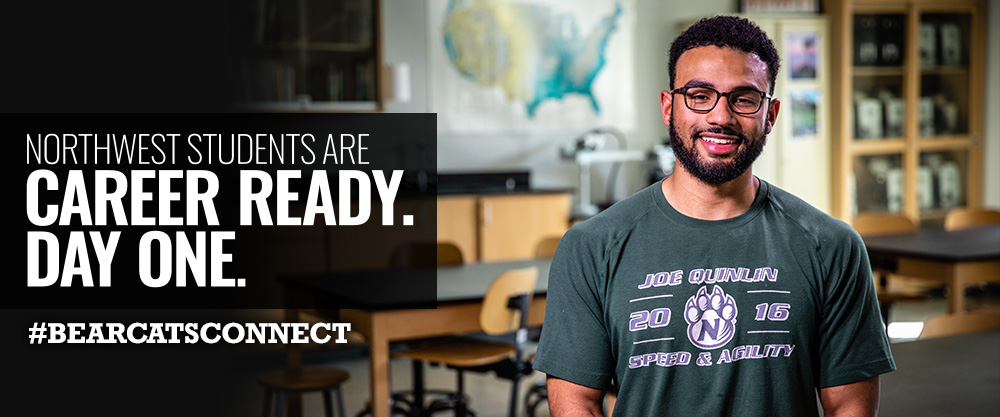 Joe Straws
Biology and Psychology