Behavioral Sciences Visit Day
Wednesday, October 27, 2021
9:00 a.m. - 2:30 p.m.

Registration is closed.
Schedule of Events
* Schedule subject to change *
All activities are held in the J.W. Jones Student Union unless otherwise specified.
Time
Activity
9:00 a.m.
Check-In
9:15 a.m.
Welcome and Admissions Presentation
10:00 a.m.
Students only – Attend High Impact Class
10:00 a.m.
Parents only – Financial Aid Presentation
10:30 a.m.
Parents only – Career Services Presentation
11:00 a.m.
Lunch
11:45 a.m.
Student Panel
12:15 p.m.
Academic Departmental Information
1:00 p.m.
Campus Walking Tour
2:30 p.m.
Visit Day Wrap up


Any final questions about Northwest?
Visit Day Questionnaire & get your t-shirt
Thank you very much for visiting!
Description
This Discover Your Major Visit Day is for students who are interested in Northwest and wish to learn more about areas in Behavioral Sciences. Programs of interest may include: Biology/Psychology, Child and Family Studies, Human Services, Psychology, Sport Psychology and Sociology. The day includes interacting with current Northwest faculty and students. The event will highlight Northwest with a campus tour and information sessions.
Registration is closed.
You will have the opportunity to:
Talk with the department faculty and students majoring in related fields
Learn about careers in Behavioral Sciences
Attend a high impact classes
Tour our classrooms
Explore the Northwest Campus
Learn more about:

Admissions
Financial Assistance
Campus Housing
Student Life
Career Ready. Day One.
Northwest ensures students are career ready, day one through internships, field experiences and networking opportunities. Read Estella's story »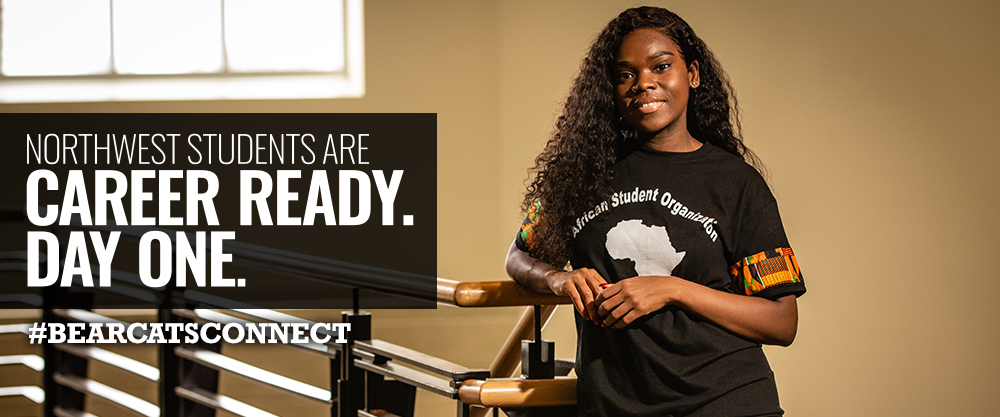 Estella Wesseh
Psychology