Please Welcome our new bearcats:

Gilbert Hall
Custodian
Facility Services


Joshua Smith
Custodian
Facility Services

 Jeremy Staples
Officer
University Police
Employee Anniversaries
Congratulations to these employees for their milestone years of service in February 2020!

5 Years
Ashlee Hendrix
Senior Graphic Designer
University Marketing & Communication
10 Years
Stacy Carrick
VP of Finance & Administration

VP for Finance
2020 Federal W-4 and Withholding Tax Changes
The Internal Revenue Service, IRS, has released a 2020 Federal W-4 form that is different from previous versions. The IRS is not requiring all employees to complete the 2020 Federal W-4 form, but advises all employees to review their paycheck and evaluate the need to make adjustments to tax withholdings. If employees do not complete a 2020 Federal W-4 form, withholding will continue based on the most recent W-4 form completed.  Effective January 2020, all new employees and employees making withholding changes must complete the 2020 Federal W-4 form.
We encourage all employees to consult their tax advisor to review existing withholding status, evaluate the impact and make any corresponding changes using the 2020 FederalW-4 form on MyNorthwest. Employees should complete the form online, print, sign and submit to payroll. Forms received by the 10th of the month will be included in the respective month's payroll.
Contact the payroll office at 660.562.1108 if you have questions.
Upcoming Events, Training and Deadlines
Employee Performance Reviews were due to the Office of Human Resources Oct. 1st, 2019. If you have not yet completed your performance reviews, please do so as soon as possible. Please contact the Office of Human Resources if you have any questions.
Career Pathing is Back!
Check the Student Employment section below for details and to register!
Spring Break Holiday - University Offices Closed
Monday, March 9
Northwest Awards and Recognition Ceremony
Monday, April 6
3 pm - J.W. Jones Student Union Ballroom
National Student Employment Week
Monday, April 12-Friday, April 18
Student Employment
CAREER PATHING SESSION OPPORTUNITIES
Generations At Work - Interaction Guidelines to Increase Performance
Lauren Schieffer, International Speaker & Author
High Road Solutions
Date:               Wednesday, March 18, 2020
Time:               11:00 a.m., 2:00 p.m. or 3:30 p.m.
Length:            60 Minutes
Location:          Student Union Ballroom
For the first time in American history, there are four generations in the workplace. The "old folks" are not obsolete, and the "kids" are not sloppy and lazy. Each brings an important energy and contribution to the team. This fun and interactive session allows you to understand each generation's driving influence and gives you what you need to communicate for greater effectiveness and harmony.
Key Takeaways:
Core characteristics of each of the four generations
Influencing factors that create emotional drivers
Tips for communicating with and motivating each generation – especially the largest and still growing generation: Millennials.
Turning Disruption Into Your Competitive Advantage
Steven Iwersen, CSPKeynote Speaker & AuthorAurora Pointe, LLC
Date:               Tuesday, April 28, 2020
Time:               11:00 a.m., 1:00 p.m. and 3:30 p.m.
Length:            60 Minutes
Location:          Student Union Ballroom
Industry Disruption. Innovation. Managing Chaos.  The new expectation of every leader and industry is to rethink and retool their approach to business if they want to be relevant, see results, and increase revenue. How individuals and organizations respond to this new business culture will determine if they thrive or die. 
Steven Iwersen presents the 4 essentials that the best leaders of large corporations and small businesses are using every day to stay ahead of the crowd and to help avoid getting stuck. Discover how turning chaos into an advantage is as easy as herding porcupines.
#Relationships
Wellness Services
Dates:              Tuesdays (January 21 - April 28) Attending one session counts as one Career Pathing
Time:               2:00 p.m.
Length:            60 minutes
Location:          The Station
Social connections are interwoven in every part of your life. This workshop series will focus on topics, such as improving communication skills, making new friends, defining healthy relationships, addressing roommate conflict, and much more! This event is open to students, faculty and staff
Make sure to follow Wellness Services on Facebook and Twitter for up-to-date information about their workshops and groups (including potential last-minute changes to times, locations, or cancellations)!
Dare to Self-Care
Wellness Services
Date:               Thursdays (January 23 - April 30)* Attending one session counts as one Career Pathing
Time:               11:00 a.m.
Length:            50 minutes
Location:          Student Union - Meeting Room D**
Topics include self-care, nutrition, stress, sleep, purpose, goal setting and home remedies.
Make sure to follow Wellness Services on Facebook and Twitter for up-to-date information about their workshops and groups (including potential last-minute changes to times, locations, or cancellations)!
*No session February 6, 2020
**February 13th's Session will be in Hughes Fieldhouse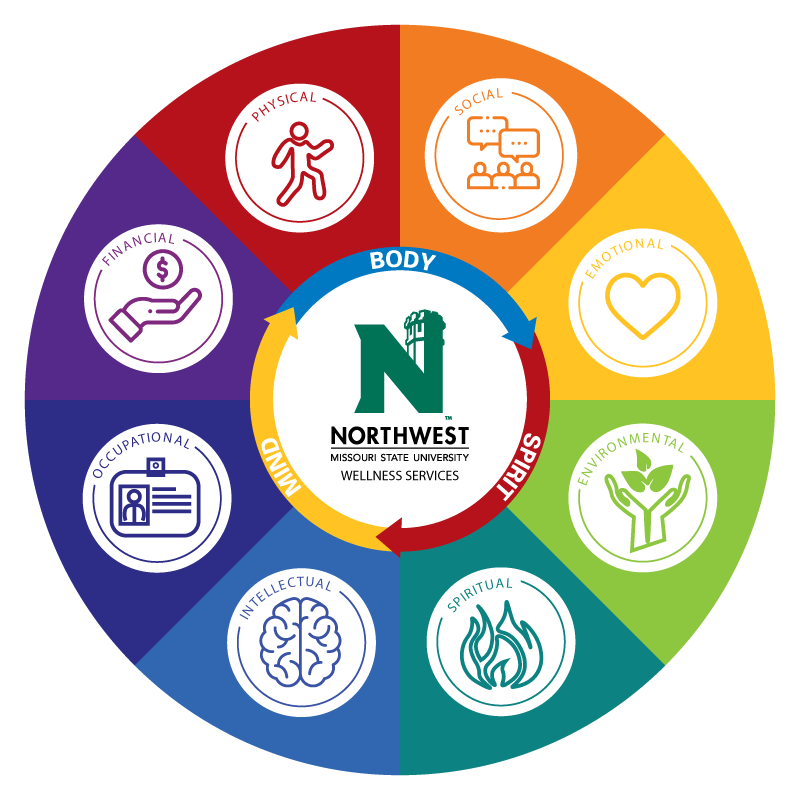 Stress Busters
Wellness Services
Date:               Mondays (January 27 - April 27) Attending one session counts as one Career Pathing
Time:               4:00 p.m.
Length:            45 minutes
Location:          The Station
Learn to recognize and effectively manage stress in fun, healthy ways!
Make sure to follow Wellness Services on Facebook and Twitter for up-to-date information about their workshops and groups (including potential last-minute changes to times, locations, or cancellations)!
Benefits and Wellness Information
Spring 2020 Wellness Opportunities
Be a Better Bearcat 
The spring 2020 Be a Better Bearcat series will focus on behavioral health, wellness and professional development opportunities available to employees. Employees have the option to participate in two different pathways. 
The first pathway involves completing modules in Therapy Assistance Online (TAO). TAO is online self-help available 24/7 for Northwest employees. Several behavioral health modules are available, including general well-being and resilience, stress, anxiety, depression, pain management, and relationships and communication. TAO is interactive and allows employees to watch engaging videos and complete exercises. Employees who earn five badges by May 1 will be entered into a prize drawing at the end of the spring semester. One TAO administrator will be able to see only the number of badges earned for those employees participating in the Be a Better Bearcat group. If you are interested in participating with TAO, email healthybearcat@nwmissouri.edu. TAO is completely confidential if you do not wish to participate in the Be a Better Bearcat group.  
The second pathway involves attending Wellness Workshops or Career Pathing events. Wellness Workshops are presented by Wellness Services and include sessions about stress, meditation, self-care and relationships. Visit Wellness Workshops for dates and times of workshops (refer to the University Calendar for changes to locations, dates, times or for cancellations). Employees also may attend Career Pathing events sponsored by Student Employment. Career Pathing events provide employees with opportunities for personal and professional development. Registration is open. Employees who attend six of any Wellness Workshops or Career Pathing events by May 1 will be entered into a prize drawing at the end of the spring trimester. If you are interested in participating, please email healthybearcat@nwmissouri.edu. Sign-in sheets are available at all Wellness Workshop and Career Pathing events. Be sure to sign in to those you attend. 
The Benefits and Wellness Committee also is implementing a year-long Be a Better Bearcat series. The series will focus on the available resources and tools found on the BCBS wellness portal, A Healthier You. Employees who earn 3,000 points between January 2020 and December 2020 will be entered into a prize drawing at the end of the year. Points can be earned by logging in, condition management, daily tracking through a connected fitness device and preventive actions such as flu shots, cancer screenings and completing the Health Risk Assessment. Points can also be spent on sweepstakes for a chance to win digital gift cards from BCBS. In 2019, 40 Northwest employees earned gift cards. Click or more information about earning points. If you are interested in participating, please email healthybearcat@nwmissouri.edu. 
Fitness Challenge
The Benefits and Wellness Committee is sponsoring a fitness challenge in April. Watch for additional information to be emailed in the coming weeks.
Campus Recreation Offerings 
The Foster Fitness Center, the Student Recreation Center and the Hughes Fieldhouse walking track are free for all employees and spouses to use. 
Free group exercise classes are also available at Foster Fitness Center at 12:15 p.m. Monday through Thursday; click to see available classes.
The Student Recreation Center has three basketball courts, a four-lane suspended track, a newly renovated exercise area and six racquetball courts. 
The Hughes Fieldhouse walking track is open from 6 a.m. to 1 p.m., Monday through Friday. 
The Mozingo Outdoor Education and Recreation Area (MOERA) is located nine miles from Northwest at Mozingo Lake Recreation Park. It offers a variety of outdoor programs, including a high ropes challenge course with a Carolina climbing wall, Alpine obstacle tower and TDC team-building course as well as a shotgun range, and canoes and kayaks on the lake. Contact Chase Hall at chaseh@nwmissouri.edu or 660.562.1759 for information and reservations. 
View a complete listing of campus recreations hours of operation »
Mosaic Offerings
Mosaic Medical Center - Maryville is offering a personalized weight management program called Healthy Lifestyles. The program is designed to help people of all ages and sizes achieve an improved quality of life through medical nutritional counseling, teaching and lifestyle changes. For additional information about the program, visit Healthy Lifestyles: Personalized Weight Management Program.
Blue Cross Blue Shield Updates
Prescription Drug List Updates - BCBS will be making changes to some prescription drugs that will go into effect January 1, 2020. 
Pharmacy Benefit Manager Transition - Beginning January 1, 2020, pharmacy benefits for BCBS will be administered by a new pharmacy benefit manager, OptumRx. This new partnership will allow BCBS to drive greater affordability for customers through highly competitive pricing and continued innovation. 
Change to BCBS ID Cards - BCBS will be issuing new member ID cards for 2020 with the following changes:
Cards will reflect new pharmacy information
Copays will no longer be listed on the ID cards. Copays and member responsibilities can vary based on different services, providers and other circumstances. Copay references were removed from ID cards to reduce member confusion at point of care.
Cards will have clear description of Behavioral Health and Substance Use next to the customer service phone number related to those benefits. 
Mental Health and Wellness Resources
The Office of Human Resources would like to highlight the following resources that employees can use if needed. Both resources are confidential:
Employee Assistance Program
All Northwest employees are eligible to utilize Ability Assist Counseling Services sponsored by The Hartford. Please click here to read about the many benefits this program provides.
TAO-Therapy Assistance Online
This is a private online library of behavioral health resources. Use your Northwest email to log in to use this free resource. This is available to faculty and staff as well as students. Please click here for more information.
Staff Council
Northwest Wesley Foundation wants to introduce additional services to the Bearcat community!
What: Prayer/Meditation Space
Purpose: To support interfaith practices, as well as, stress reduction. It is available for quiet contemplation, meditation, reflection and prayer.
Available for all students, faculty, and staff during normal hours of operation and when space is available. The Wesley Center is located just south of Hudson-Perrin at 549 W 4th St. For more information about the Wesley Center please visit www.northwestwesley.com.
Staff Council
Northwest Staff Council represents a unified voice for all Northwest Staff. To learn about the staff, upcoming events, or if you have any concerns please visit us at https://www.nwmissouri.edu/staffcouncil/index.htm
Employee Discounts
State Employee Discount
The State Employee Discount Website provides Missouri State Employees and Retirees opportunities to purchase deeply discounted tickets for events the whole family can enjoy. In addition to Attractions and Entertainment, the website also offers year round savings for Education, Products and Services, and Technology.   
Use this link to find more information on other products and services available on the State Employee Discount website.
Interstate All Battery Center $10 Off Coupon
Interstate All Battery Center in St. Joseph is offering a $10 off coupon for any mobile device repair. Click here to access the coupon. This is only valid at the St. Joseph location.
Verizon Wireless Personal Account Discount
Verizon Wireless is offering employees of the University an 18% discount on their personal Verizon Wireless accounts. Employees will need to go to www.verizonwireless.com/b2c/employee/eleLanding.jsp to get the discount set up. You will use your work email address as verification of employment. 
Sprint Works Program
Click here for details on new promotions from Sprint.
Miscellaneous
Reminder: Bearcat Food Pantry
The mission of the Bearcat Food Pantry is to provide a source of food and necessities for Northwest students and employees experiencing food insecurity and hunger. The food pantry is located in the J.W. Jones Student Union and is accessible from 8 am to 5 pm. Northwest accepts food donations for the pantry at the Student
Engagement Center and the Student Affairs office both located on the 2nd floor of the J.W. Jones Student Union. For a list of most needed items, click here. Monetary donations to support the food pantry should be directed to the Northwest Foundation and are tax deductible.
"We Gotchya!" 
"We Gotchya!" is supplying feminine products in high-traffic ladies' rooms on campus. For more information about "We Gotchya!" visit wegotchya.org.
Friends of International Students
Friends of International Students (FIS) is a community-based organization established to match interested area individuals and families (friends) with international students at Northwest. The program goals are to provide support to the students as they become adjusted to their new home and to promote friendship and understanding between people of different nationalities.
FIS is currently recruiting more friends to connect with international students. Friends are asked to make contact with assigned students at least once a month during their year-long commitment to the program. Contact can take many forms including family dinners, attending sporting events, pumpkin carving, and various other activities involving two-way cultural tradition sharing. For more information or to apply, please contact the board members at FIS@nwmissouri.edu or check it out online https://www.nwmissouri.edu/international/services/friends/index.htm.
Does your department need office supplies?
Please check the "How to Purchase Office Supplies" guide. Various binders, hanging file folders and other office supplies are available at no cost to departments at Central Receiving.
---
Purchase Requisition Training Videos
Purchasing has created instructional videos explaining how to create a purchase requisition and a Central Stores purchase requisition in Banner/INB. The videos are available in MyNorthwest, Employee Resources - Finance. 
---
Workstation Safety Guidelines
It is important for employees to apply good ergonomic practices. To view a complete list of ergonomic suggestions, visit Workstation safety guideline.