2020 August Commencement Instructions
Northwest  is committed to the health and safety of its graduates and guests. As part of its mitigation strategy to help prevent the spread of COVID-19, Northwest is altering its previously announced plans for its Aug. 8 commencement ceremonies. Please read carefully through all of the information.
Postponed Spring Commencement Exercises
Saturday, August 8, 2020
6:00 p.m.
One large ceremony will take place in Bearcat Stadium.
In case of inclement weather, the ceremony will be canceled.
The time and location of the commencement ceremony has been changed to implement mitigation and safety measures.  Moving the time of the ceremony to 6 p.m. will provide a more comfortable environment for our graduates and guests with reduced heat and sun exposure.
Tickets are NOT required for the ceremony, however, we respectfully ask that yourself and guests bring and wear a face covering while attending the commencement ceremony. Wearing a face covering not only protects your loved ones; its protecting individuals around them.
Please carefully read all of the information provided below and forward to your family and friends who will be in attendance for this special celebration.
If you are no longer able to attend commencement, please contact Jordyn Greenhaw at jordyng@nwmissouri.edu.
Cap and Gown
Graduates have three options to pick up their cap and gown.
Graduates may pick up their cap and gown between 9 a.m. and 4 p.m. Thursday, Aug. 6, and between 8 a.m. and noon Friday, Aug. 7, on the first floor of the Administration Building.
Graduates may make arrangements to pick up their cap and gown Monday, Aug. 3, through Thursday, Aug. 6, at Northwest-Kansas City in Gladstone by contacting Kaley Coulter at kcoulter@nwmissouri.edu.
Caps and gowns will be available for pickup starting at 2 p.m. Saturday, Aug. 8, at the Student Recreation Center.
Caps and gowns cannot be mailed.
You may have someone pick up your cap and gown for you, but they need to have your 919#.
Please iron gowns on the wrong side (inside out), or hang in the shower to reduce wrinkling. Ironing boards will be available at cap and gown pickup.
Honor cords
Graduates who are eligible for honor cords will receive them with their cap and gown order.
Honors are based on both a graduate's current Northwest and cumulative grade-point averages. Honors for transcripts and diplomas are adjusted after final grades have been calculated. Honors are not awarded to master's degree candidates.
Cum Laude: 3.5 – 3.74 (white)
Magna Cum Laude: 3.75 – 3.94 (green)
Summa Cum Laude: 3.95 – 4.0 (gold)
Graduates who believe they should have received honor cords and did not should contact the Registrar's Office at 660.562.1151.
Mortar Boards (graduation caps)
The cap is yours to keep, and you are welcome to decorate your keepsake cap and show your Bearcat pride, creativity and style.
Make sure that you look inside the cap to determine which side is the front and decorate accordingly.
Rules for decorations:
No vulgar language
No inappropriate verbiage or pictures
Decorations cannot obstruct the view of those behind you
Any cap deemed inappropriate by the University Coordinator will be taken and you will be provided a new cap
Day of the Ceremony
Procedures Before the Ceremony
Pick up your cap and gown in the Student Recreation Center, no later than 30 minutes prior to your commencement ceremony time. The Student Recreation Center is located at the end of the long hallway that runs north/south of Bearcat Arena in Lamkin Activity Center.
Check in at the check in table located in the Student Recreation Center.
Bearcat Stadium will open one hour prior to the ceremony for guests at 5 p.m.
Beginning at 5 p.m., graduates may pick their seat on the football field in your designated degree area (bachelor's, master's, specialist, doctorate).
Master's/Ed. Specialists: A faculty member will assist with holding your hood
Make sure you have your reader's card (see below).
Cell phones should be silenced when you reach your
Bring and wear a face covering if you cannot maintain at least 6 feet of social distance from others.

Process for Receiving Your Degree
The provost will instruct you when to rise, according to your degree (bachelor's, master's, specialist, doctorate). You will be led to the stage while staying 6 feet apart. You are not required to wear a face covering as you cross the stage.
When you reach the ramp to the stage, hand your reader's card to the person with the scanner and proceed to the stage.
Proceed to the provost, where you will receive your diploma cover and cross the stage.
The provost will hood all master's candidates while taking necessary mitigation measures between each graduate.
After all candidates have returned to their seats, the president will confer degrees. At this point, graduates move their tassels is from the right to the left side of their cap (mortarboard).
At the conclusion of the ceremony, the platform party and faculty will pass your seat. At that time you are free to move as you wish. Please remember to wear your face covering if you cannot maintain 6 feet of distance from others. You must return your gown to the Student Recreation Center within 45 minutes of the conclusion of the ceremony.
Personal Belongings
Personal belongings placed on chairs or bleachers are your responsibility and Northwest is not liable if they go missing.
Name Cards
You should find a colored card in your cap and gown bag that has your full name printed on it. You must bring this to the ceremony with you. This will be scanned for your entry to the Student Recreation Center and the reader will use it as you cross the stage to announce your name. If you prefer to leave part of your name out (for example, your middle name), cross it out on the card. If any part of your name needs to be changed on your card ( for example, incorrect spelling, married name, etc.),  be sure to mention the change when you visit the check-in table.
Please also write your email and mailing address on this card for our photographers. They will use your email and mailing address to send your proof pictures.
This information will be projected on the screen as you cross the stage: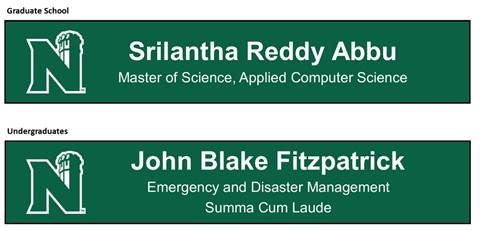 Help with your name
If you have a name that is difficult to pronounce, write the phonetic spelling on the card.  An assistant on the stage may ask you how to pronounce your name. We want to make every effort to get it right.
Gown Return
Your gown must be returned to the Student Recreation Center within 45 minutes of the conclusion of the ceremony.
After that time, the doors will be locked and you will have to mail your gown back to the University at your own expense.

Mail your gown to:
Kaley Coulter
Cashiering
800 University Drive
Maryville, MO 64468
General information for your guests
Parking
All parking lots on campus will be open and available to guests. The circle drive west of Bearcat Stadium, Scott Bostwick Drive, near the Ron Houston Center for the Performing Arts will be designated for ADA drop-off only.  Please review a map with all campus parking lots.
Disabled Resources
Disabled resources are available, and we want to make sure our graduates and guests are safe and comfortable on this special occasion. Please review our accommodations at www.nwmissouri.edu/graduation/accessibility.htm or the information below.
Elderly or mobility impaired guests may be unloaded at the circle drive west of Bearcat Stadium. A lot designated for disabled parking is located northwest of Bearcat Stadium; vehicles must have a state disabled parking permit.
Access to Ceremony
Guests may use stairwells or an elevator on the west side of Bearcat Stadium to access the seating area.
Choose a Location To Meet After the Ceremony
With so many guests attending, you should consider choosing a location for your family to meet after the ceremony. Your family members will not be allowed access to the Student Recreation Center after the ceremony when you return your gown. Weather permitting, you may want to meet your family for pictures by Colden Pond, the Hughes Fieldhouse, the Kissing Bridge, the Peace Pavilion or another area.
Live WEBCAST of the Ceremony
Northwest will provide a live webcast of the commencement ceremony for guests who cannot  attend. If you or your guests are feeling ill or are uncomfortable with attending the ceremony, please  access the live webcast to view the ceremony.
To view the webcast, go to www.nwmissouri.edu/live. The footage from our audio/visual production company will be uploaded to the Northwest YouTube channel within a few weeks of the ceremony. Watch past ceremonies at: www.youtube.com/NorthwestVideo/.
Photos
For the safety of graduates exiting the stage, guests may not take photos in aisles or the area in front of the stage. Guests should use a designated photo area to the right of the stage. Guests should wear a face covering if they choose to enter the designated photo area.
Graduates will have three photos taken by professional photographers from Grad Images; one as you approach the stage, a second as you cross the stage, and a third directly off the stage while holding your diploma cover in front of a Northwest backdrop. Proofs will be emailed or mailed directly to you within one week, and you may order photos at your convenience.
Diplomas
Spring graduates should have been mailed their diploma within 6-8 weeks after the May 8 conclusion of the spring semester. Summer graduates will be mailed their diploma within 6-8 weeks after Aug. 14 end of the summer term.  Diplomas will be mailed to the address provided on the application for degree that you submitted to the Registrar's Office or Graduate Office. Any change in address should be reported to the Registrar's Office. 
Diploma covers
As you walk across the stage, you will receive an empty diploma cover, which is yours to keep and preserve your diploma.
If you have questions pertaining to commencement, reply to this email. You also may find Northwest commencement information online.
---
Thank you, and congratulations!
Jordyn Greenhaw
University Event Coordinator