The Influential Woman at Northwest Award recognizes and honors Northwest women who make a difference in the campus community. The award also celebrates women who not only inspire and positively influence others but contribute to the success of students and the University.
2023
Staff Awards
Award Recipient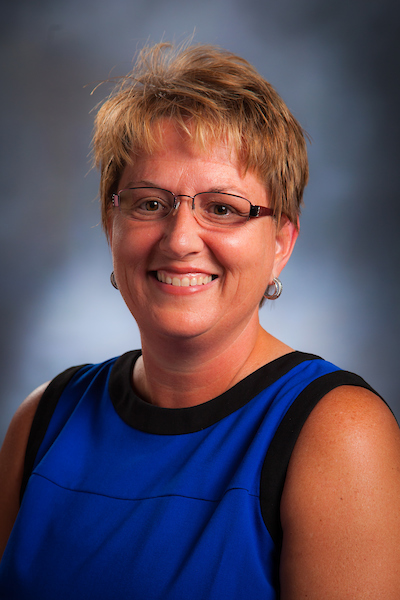 Stacy Carrick
Vice President, Office of Finance and Administration
Carrick joined the Northwest staff in 2010 and was recognized as a mentor to employees of the University as well as its students. In addition to her membership with the Northwest Leadership Team, she is involved with the American Institute of Certified Public Accountants, National Association of College and University Business Officers, Central Association of College and University Business Officers, Missouri Department of Higher Education and Workforce Development, Council on Public Higher Education in Missouri, Coordinating Board for Higher Education and the Mosaic Life Care Board of Trustees.
"Stacy's business acumen is unmatched," her nominator wrote. "The way she problem-solves is fascinating to see in action. She has such an in-depth knowledge of finance and creative ideas to constantly improve the financial status of Northwest Missouri State University. She is a caring and dedicated leader, constantly guiding her team to excel. She has high expectations and provides the necessary tools to meet those expectations."
Faculty Awards
Award Recipient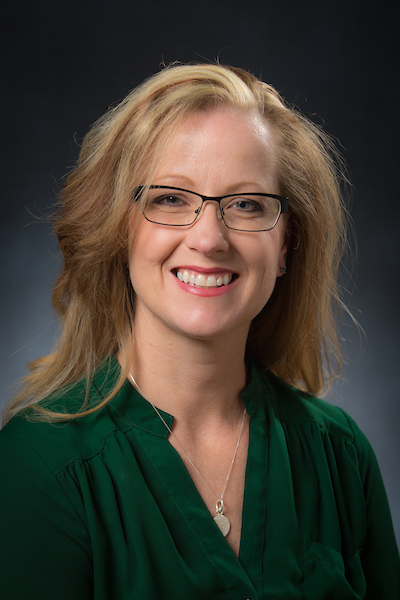 Dr. Deborah Toomey
Associate Professor of Marketing, Melvin D. and Valorie G. Booth School of Business
Toomey joined Northwest in 1997 as coordinator of student orientation and transfer affairs. She continued in the University's admissions office until joining the faculty in 2006 and will retire at the conclusion of the academic year. During her tenure at Northwest, she was instrumental in the development of Summer Orientation Advisement and Registration and Knacktive in addition to serving as a provost fellow and as an advisor of AdInk and Cardinal Key.
"Dr. Toomey has always been one of the first to volunteer for special projects, always has her door open for students, staff and faculty, and is widely respected by all who have collaborated with her," her nominator wrote. "For her Northwest and Maryville lifetime community involvement, Dr. Deb Toomey deserves to receive the Influential Women of Northwest Award in her final year at Northwest."
Student Awards
Lonnae Young Influential Student Award Recipient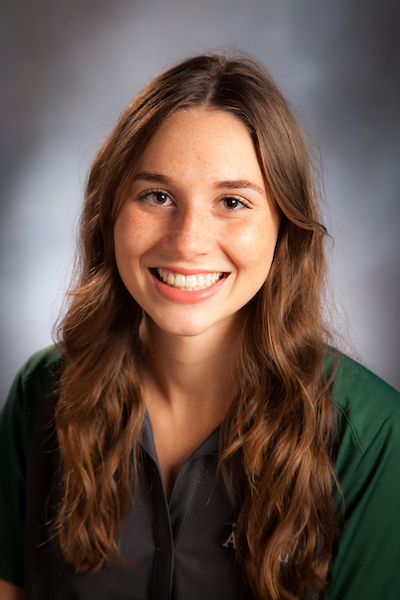 Elizabeth Motazedi
Senior, Social Studies Education major
Joplin, Missouri

Elizabeth Motazedi, a senior from Joplin, Missouri, who is majoring in social studies education with an emphasis in history, received the Lonnae Young Influential Student Award, which is named in remembrance of Lonnae Young, a Northwest student who died unexpectedly in 2019.
Motazedi serves as Northwest's 2022-23 Student Senate president and was a student member of the University's Presidential Search Committee. She also is active with Phi Mu sorority, as a student ambassador and as a student member of the Northwest Alumni Association Board of Directors.
"Elizabeth has served the University in multiple ways, both seen and unseen," her nominator wrote. "She is an example of professionalism in the ways in which she shares her opinion. She is knowledgeable without being arrogant and listens to the considerations of those around her."
Past Recipients
2022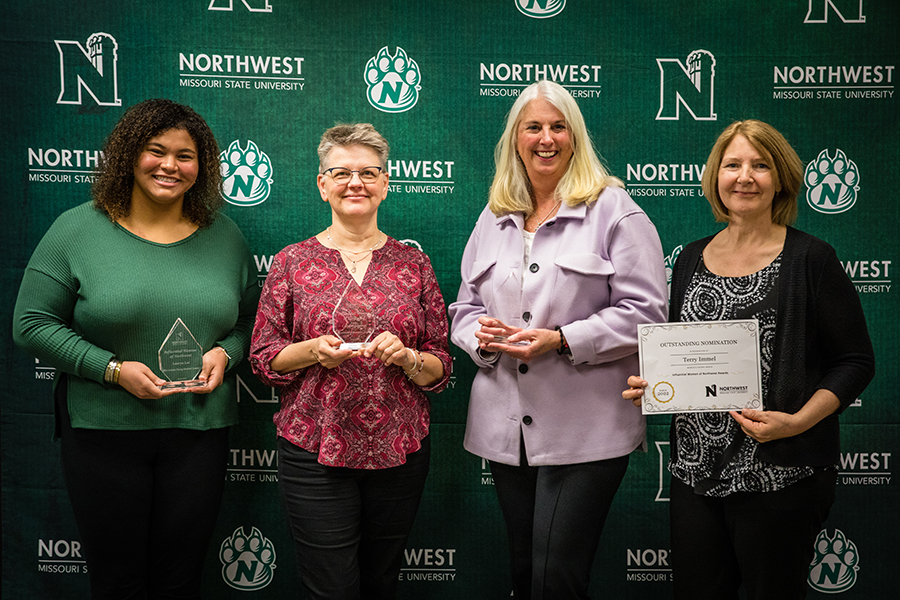 Faculty award
Dr. Rebecca Moore
Moore is an assistant professor of professional education in the School of Education. She joined Northwest in 2019 and teaches courses related to the ecology of teaching and learning, developmental foundations of early childhood and creative arts.
Her nominator comments included:
"Dr. Moore is a person you go to whenever you need a laugh, a shoulder to cry on, a listening ear, or advice."
"Throughout every class period, she never fails to make all of her students feel loved and included. She is one of those people who never leaves a student behind."
"She is not afraid to be vulnerable and allows students to express themselves to her."
"Dr. Moore is the most genuine, selfless and caring person you will ever meet. She will always make you feel loved and recognized."
Staff awards
Gina Smith (award recipient)
Smith is the office manager in the School of Health Science and Wellness. She joined Northwest in 2007, and is a member of the Northwest Foundation Board of Directors and the Association of Black Employees. She also serves on the executive committee of Staff Council.
Her nominator comments included:
"I believe Gina Smith is the heart and soul of the School of Health Science and Wellness. She keeps us organized and running smoothly."
"I feel Gina Smith deserves to be recognized as an influential woman at Northwest because she goes out of her way to help both faculty and students. Students often say Gina Smith helped me with ... fill in the blank. The list is long."
"You want someone who provides healing and promotes hope, you will find that in Gina Smith."
Terry Immel (outstanding nominee)
Immel joined Northwest in 1998 and is the office manager for the School of Computer Science and Information Systems. She is a member of the Northwest Ally Affinity Group, and served on Staff Council.
Her nominator comments included
"She is uplifting and positive in all of her interactions. She is also honest and real about her feelings and her life, showing that vulnerability is ok."
"Terry has diligently served on the WHM Committee for several years and has provided valuable input when it comes to the programming and planning of events. She is very caring and assiduous, and will take time from her busy schedule to listen to you. She is a role model for many women, especially for those of us in Colden Hall."
Lonnae Young Influential Student Award
Lauryn Lee
Lee is a senior human services major from Bennington, Nebraska. She is a member of Sigma Kappa sorority, Order of Omega, the Psi Chi international honor society in psychology and Active Minds.
She is passionate about mental health advocacy and serves as a peer wellness coach.
Her nominator comments included:
"Lauryn is one of the most caring, compassionate and selfless people you will ever meet and she embodies what it means to be a strong woman."
Community Champion Award
Carolyn Johnson
Johnson is a research librarian at the B.D. Owens Library and has been employed Northwest for more than 30 years. She is a member of the Ally Affinity Group and WeGotchya in addition to leading the Community Connections Group for the last four years.
She also mentors faculty and staff at Northwest and was nominated as an influential woman of Northwest in 2021.
Champion Award
Dr. Jamie Hooyman
Hooyman was named Northwest's first female provost in 2017 and previously had served as vice provost since 2016. As a member of the Northwest Leadership Team, she oversees learning operations, academic quality and student success. Additionally, she leads the development and assessment of academic programming.
In 2021, Hooyman was honored as one of North Central Missouri College's Distinguished Alumni.
2021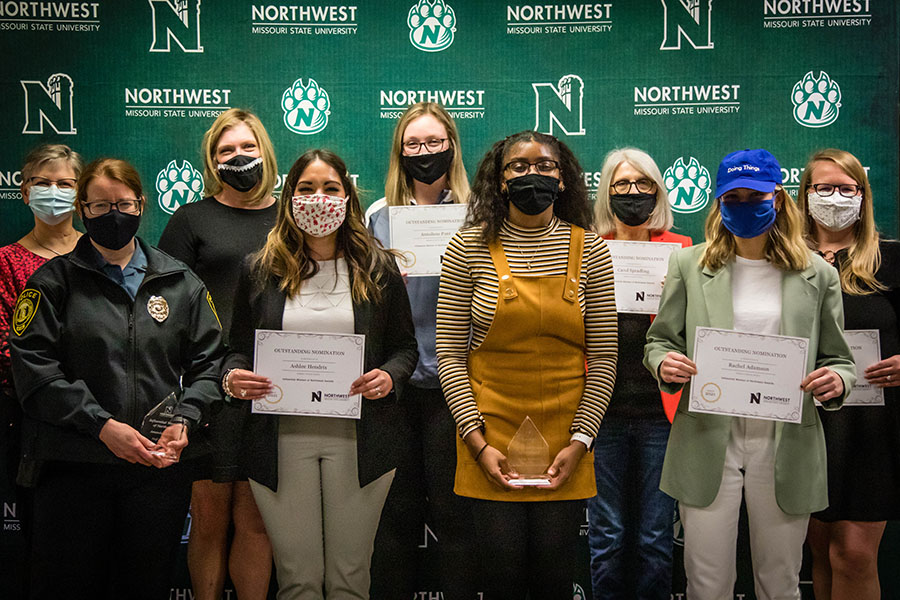 Staff Awards
Award Recipient
Amanda Cullin
Lieutenant for Administration, Univeristy Police

Cullin supports a variety of organizations, including We Gotchya, Active Minds and Ten Squared Women of Nodaway County. In 2018, she received a Northwest Excellence Award for Civility.

Her nominator comments included: "Amanda is a source of positivity on campus. As part of a supportive team at University Police, she is a friendly face of Northwest, helping the entire campus community operate smoothly."

"Amanda puts others first and uses her leadership position to be a role model for students, faculty and staff."

"Amanda's support for women's causes both on campus and off are Hollywood-style inspirational."
---
Outstanding Nominee
Jill Brown
Director of Partnerships and Placement, Career Services

Brown joined Northwest in 2017. She has played critical roles in establishing and supporting the University's Career Closet and organizing PBL Palooza, a student poster showcase event.

Her nominator comments included: "Anyone who knows Jill well knows that she is the very embodiment of tireless, ceaseless, relentless, positive energy. There is not a day in our office where Jill doesn't bring a smile, a compliment and encouragement or a joke, and these all flow out of her natural, genuinely kind spirit."

"She brings her relentless positive energy to Northwest every day because she loves the work. She loves the challenge. She loves the relationships. She loves being here. She loves the grind. She doesn't love the awards."
---
Outstanding Nominee
Ashlee Hendrix
Senior Graphic Designer, Office of University Marketing and Communication

Hendrix joined Northwest in 2015. In addition to playing an active role in Northwest ally groups, she is a candidate for Maryville City Council.

Her nominator comments included: "In addition to being a woman of color herself, Ashlee has fully committed herself to ally-ship for other communities of people by spearheading the ally employee group on campus. She has made that entity active and engaged with 15 to 20 people attending meetings and participating in workshops and other events."

"Ashlee is someone who would never promote herself or the work that she does but she is always listening, working and active. She creates so much good on this campus."
Student Awards
Lonnae Young Influential Student Award Recipient
Cayla Vertreese
Senior, Human Services major
Lee's Summit, Missouri
An Influential Women outstanding nominee in 2020, Vertreese is involved with Active Minds and co-organized a Black Lives Matter event in Maryville last year.

Her nominator comments included: "It was so important to have this protest in town, and I am thankful for Cayla's leadership in making it happen. Her work has done a lot to move the conversation here in Maryville and on the Northwest campus forward."

"Cayla's continued commitment to change and to supporting others is truly impressive."

"Cayla is the type of woman we all aspire to be and will give the shirt off her back to a stranger without a second thought."
---
Outstanding Nominee
Rachel Adamson
Senior, Multimedia Journalism major
Gladstone, Missouri

Adamson has served for two years as editor-in-chief of The Northwest Missourian, which was named the best college newspaper in the state of Missouri in 2020 by the Missouri College Media Association.

"In some ways, Rachel has likely affected the lives of more students and staff members than any other nominee by leading a publication that reaches thousands of readers every week. Rachel has pushed The Missourian to cover underrepresented students at a higher volume than ever before and has made sure incidents of injustice on campus and in the community don't go unaddressed in the paper's news section. Her leadership has helped set an ethical, considerate agenda for the paper and, through it, for the community."

"Throughout the last two years, the paper has held the powerful accountable on and off campus, largely thanks to Rachel's steady, empathetic leadership at the helm of the paper. She has deftly guided the paper out of financial trouble and into communal relevance by pushing reporters to want the best out of themselves. And in doing so, she has touched the lives of dozens of staffers and countless readers."
---
Outstanding Nominee
Annie Punt
Junior, Public Relations major
Omaha, Nebraska

Punt is a junior public relations major from Omaha, Nebraska. She is a member of Alpha Sigma Alpha sorority, serving as chapter president and Panhellenic president, in addition to Student Senate, AdInk and CommCats. She works as a student ambassador and as an office assistant in the Office of Student Involvement.

Her nominator comments included: "Students at Northwest look up to her for her leadership skills and selfless personality."

"In all of these clubs and organizations, she holds leadership positions in which she leads by example and with compassion, not by force. She is someone who focuses on inclusion and embodies that within her everyday life."
Faculty Awards
Award Recipient
Rikki Frucht
Retired Professor, Humanities and Social Sciences

Frucht retired in 2008 after 28 years. In addition to service as chair of the Department of Humanities and Social Sciences, she authored and edited numerous publications, including the award-winning "Encyclopedia of Eastern Europe," and led student trips to destinations across Europe, Russia and Egypt.

Her nominator comments included: "While at Northwest, Rikki was not able to live her true, authentic life as a woman and was not seen as someone qualified for this award. She was hemmed in by societal constraints and by the more conservative nature of the University community in the 1990s and 2000s. Now she is able to live freely and fully – and is working to help Northwest LGBT+ students do the same."

"Rikki did so much as a faculty member, chair and student advisor, and since leaving Northwest she has continued to devote time, energy and money to this institution. Most recently she and her wife established a series of student scholarships for LGBT+ students, the first that we have had on our campus."
---
Outstanding Nominee
Stancy Bond
Senior Instructor, Department of Language, Literature and Writing

Bond joined the Northwest faculty in 2012. She serves as an advisor of Alpha Sigma Alpha sorority and coordinator of the Writing Center in addition to serving as a member of the Savannah School Board.

Her nominator comments included: "She is incredibly involved in her personal life. She still finds time to dedicate herself to Northwest and her students. She has positively impacted every student that she's had. Any person who has come in to contact with her could tell you that she is a one-of-a-kind woman."
---
Outstanding Nominee
Dr. Carol Spradling
Retired Professor, School of Computer Science and Information Systems

Spradling retired in 2020 after 32 years as a faculty member at Northwest. In addition to service as director of the School, she co-founded the Missouri Iowa Nebraska Kansas Women in Computing Conference and received the 2012 Governor's Award for Excellence in Education.

Her nominator comments included: "Carol has been a tireless and innovative leader in the Northwest faculty and community for years. She continues to contribute in retirement in a mentorship and advising role as well as leading the Foundation Board's Cybersecurity Subcommittee. A brilliant leader in the Northwest Faculty Committee, she will continue to inspire diversity in the underrepresented populations in STEM professions."

"Carol is a role model and inspiration for those who aspire to success in non-traditional career fields."
2020
Staff Awards
Award Recipient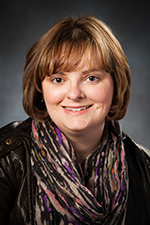 Anna Summa
Report Analyst, Office of Institutional Research and Effectiveness
Anna has contributed to three offices (Alumni Relations, Wellness Services, and Institutional Research and Effectiveness). She is an extremely bright young lady that goes above and beyond to do anything for anyone. She invites students into her home for dinner and she makes them feel like part of the Northwest family. She is a fighter who hardly ever shows her weakness. She stays positive always and smiles. She comes to work when the going is really tough and when she sees others in need she is there. No matter the battle she is dealing with, she is always there for others and she is always positive. She does so much for our students, for our offices, and our community. She has helped in raising money for both the University and for cancer charities. She is an amazing woman. Anna is a vibrant beautiful soul.
---
Outstanding Nominee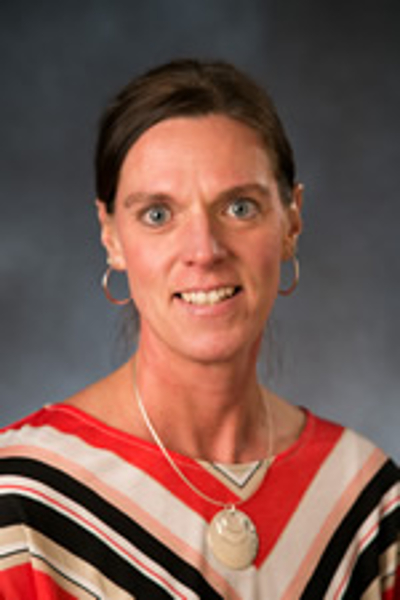 Lori Hopkins
Deputy Athletics Director, Athletics

She is highly qualified, a great communicator, professional, wields a great sense of humor, calm under pressure, and real. She is a stellar example for our student athletes, in particular. Lori has taken on a great deal of responsibility as a long-standing administrator in athletics during a time of change and has done so with great skill and a calming presence. Her positive influence has reached beyond athletics into Staff Council, Extended Leadership Team and the multitude of campus areas that interact with athletics on a regular basis … Lori's high degree of capability, skill, kindness, calm presence, sense of humor and servant leadership is a stellar example for two groups in need of strong role models on every college campus: female student athletes and female administrators in male-dominated areas. In short, she is a great human being.
---
Outstanding Nominee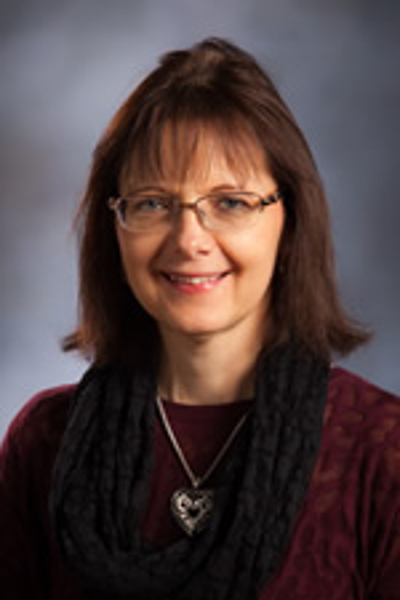 Marsha Martin
General Project Assistant, Regional Professional Development Center

Upon the death of her son in a car accident several years ago, Marsha began speaking to different groups and organizations as well as classes at Northwest about the dangers of drunk driving and the impact it can make on families. She also started a charity in honor of her son that serves a multitude of children in the northwest region, providing them with gifts for Christmas, clothing, shoes, school supplies and back-to-school outfits. She has provided food for children's families and also provides a Christmas gift to those in nursing homes who may be forgotten at this time of year. Many individuals would not be able to endure the tragedy that Marsha has experienced. She has taken a very tragic event and used it to build and support the community. Thinking of others beyond herself and the pain that her family experienced, Marsha has built a support network that many families depend upon. A variety of area school districts and churches depend on the charity she developed to benefit those in need during the holidays and beyond. In addition to the Northwest community, Marsha has assisted foster children in the St. Louis area.
Student Awards
Lonnae Young Influential Student Award Recipient
Natasha Samudzi
Senior, Human Services major
Maryville, Missouri

Natasha is a captain on the women's soccer team, a member of Blue Key, and a staff member in the international office of the library. She is a well-known face all over campus. There is not one negative quality that Natasha has. She is spontaneous, outgoing, confident and a very respectful young woman. Natasha has impacted many, many lives throughout her time at Northwest. She is so inspirational and has touched many hearts. She is a leader day in and day out. She encourages people like no other, especially on the soccer field. She is constantly pushing people to be the best version of themselves and gives it her all in all aspects of life. She is a bundle of joy that can brighten up any person's day with a simple smile or encounter. Natasha puts other people before herself even when she is not having the best day. There needs to be more Natashas in the world. I have never met anyone like her, and if you were to ask anyone who knows her they would all say the same exact thing.
---
Outstanding Nominee
Bailey Christensen
Senior, Public Relations major
St. Joseph, Missouri

This woman has had a positive influence on the Northwest community in a multitude of ways. Through her involvement in Sigma Society, she has served fellow Bearcats and community members through countless hours of service and programs such as The Nodaway County Humane Society, Lettuce Dream, and North Start Advocacy Center. On campus, Bailey is never found without a smile on her face and pep in her step. Her positive attitude and bubbly personality positively impact those on this campus daily. She embodies exactly what it means to be a Bearcat. Her character is absolutely outstanding. She greets everyone with a smile and is driven with the purpose of getting to know all people of all backgrounds. She thrives on knowing and getting to know new people. She gives her heart and soul to everything she does and everyone she meets. She is very active on campus and off campus through organizations and her full-time job at Mosaic Medical Center. She is always looking for ways to make positive impacts on campus and in the community.
---
Outstanding Nominee
Cayla Vertreese
Sophomore, Human Services major
Lee's Summit, Missouri

Cayla has brought Active Minds to our campus, a mental health awareness club, and has put so much into transforming the mental health scene on campus so students know the resources available to them. … Cayla has grown Active Minds from the ground up and encouraged more students to speak up about mental health, and to provide resources to anyone who needs them. I feel honored not only to know Cayla Vertreese and call her one of my sorority sisters, but to work alongside her to change the mental health culture at Northwest.
Faculty Awards
Award Recipient
Jacquie Lamer
Senior Instructor, School of Communication and Mass Media
Jacquie Lamer creates opportunities for students and employees on and off campus to develop, contribute and lead through her classes, organizations and daily interactions. Her personal and professional relationships connect students, faculty, staff and Maryville community members with people and professionals outside the Northwest and Maryville communities. She facilitates positive connections for Northwest and represents Northwest in a positive manner. … Jacquie makes a difference within our campus community through inspiring and positively influencing others and contributing to the success of our students and University. She conceived of, developed, and leads the "We Gotchya" campaign, bringing cost-free feminine products to the Northwest campus and Haiti. Additionally, she's long been a strong and active advocate for female Northwest graduates in securing positions in media industries. Jacquie's in the vanguard of female empowerment, not just talking the talk but walking the walk.
---
Outstanding Nominee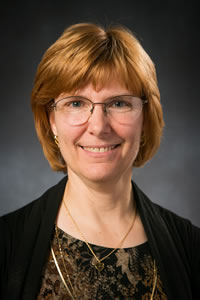 Dr. Christine Benson
Professor and Department Chair, Department of Mathematics & Statistics

Christine goes above and beyond to make students and new members feel welcome at Northwest. Her and her family go to as many activities that fit into their schedules to support their students. You can see them at about every sporting event, yelling when the team does good and dancing to the band. She makes contributions to anything that will make Northwest a better place in such ways as giving to the annual donations and donating money when students are selling cookies or food. With being the chair, she is always willing to step in and do an overload to help with making a student's schedule work in the order they need to. … With her retirement this year, it is going to be hard to fill her shoes. Christine goes out of her way to make everyone at Northwest to feel welcome and bleeds green through and through.
---
Outstanding Nominee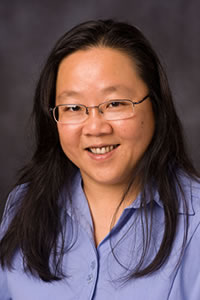 Dr. Chi Lo Lim
Professor, Melvin D. and Valorie G. Booth School of Business
Her students have achieved impressive successes in their academic and professional lives with her help. She has successfully inspired junior faculty members to continuously grow in various areas like teaching, research and service, and she has meaningfully served our Northwest community as a whole in diverse ways. … Dr. Lim is an influential woman who has made outstanding and meaningful contributions to our Northwest community by developing students into future business leaders, nurturing junior faculty members into quality educators, and serving our community in diverse ways with the focus on student success.
2019
Influential Staff Award
Pat Wyatt, coordinator of accessibility, office equity and accessibility (award recipient)

Kristen Peltz, assistant director, wellness services – counseling (outstanding nominee)
Megan DeShon Runge, assistant director, office of student involvement (outstanding nominee)
Lonnae Young Influential Student Award
Bryana Jones (award recipient)

Sierra Rains (outstanding nominee)
Alison Hanner (outstanding nominee)
Megan Frerrking (outstanding nominee)
Holly Hatfield (outstanding nominee)
Influential Faculty Award
Katheryn Bilbo, assistant professor of theater (award recipient)

Dr. Robin Gallaher, assistant professor of English (outstanding nominee)
Dr. Ashley Davis Black, assistant professor of English (outstanding nominee)
Dr. Gretchen Thornsberry, associate professor of biology (outstanding nominee)
Special Recognition
Dr. Jamie Hooyman, first female provost at Northwest
Lonnae Young, student
2012
Faculty
Dr. Alisha Francis, assistant professor, Department of Psychology, Sociology and Counseling
Dr. Dawn Gilley, assistant professor, Department of History, Humanities, Philosophy and Political Science
Susanne Nuttall, instructor, Department of Curriculum and Instruction
Sarah Park, instructor, B.D. Owens Library
Brenda Ryan, instructor, Department of English
Staff
Nikki Bucy, auxiliary services specialist, Auxiliary Services
Avis Curphey, secretary, Department of Psychology, Sociology and Counseling
Jennifer Klute, secretary, Department of History, Humanities, Philosophy and Political Science
Sue Nickerson, executive secretary, Office of Student Affairs
Jody Throener, residential life specialist, Office of Residential Life
Students
Jennifer Carr, senior history major from Sheridan, Missouri
Mary Connors, senior political science major from Garland, Texas
Ashley Cramer, freshman English major from Hamilton, Missouri
Destinee Biesemeyer, senior political science major from Liberty
Madeline Mongar, junior history major from Creston, Iowa
Margaret Martens, master of education in teaching (history) from Chugiak, Alaska
2010
Deb Toomey
Betty Heitman
Mary Throener
Jolaine Zweifel
Jill Monticue
Jaime Patton
Kristina Alexander
Deborah Rauch
2009
Girija Chavala
April Haberyan
Gayle Hull
Lori Mardis
Louise Runde
Darla Runyon
Kimberly Todd
2008
Susan Altizer
Rita Hanks
Aleta Hubbard
Carolyn Johnson
Merry McDonald
Bev Schenkel
Joan Schneider
Julie Volner
2007
Marcia Alsup
Claudia Beacom
Janice Brandon-Falcone
Sue Dredge
Marjean Ehlers
Leslie Galbreath
Nancy Hardee
Kristina Hargin
Chi Lo Lim
Virginia Murr
Rebecca Newcom Belcher
Francis Shipley
Connie Ury
Laura Widmer
Essay Contest Winners
Each year area elementary and middle school students are asked to submit an essay about influential women in history.
2009
Fifth Grade
Amani Kegode
Sara Smith
Caroline Chun
Sixth Grade
Dominic Mattock
Alysa Lyle
Ryan Collier
2008