Why Major in Communication: Organizational Communication?
Comprehensive communication majors emphasizing in organizational communication majors study the methods of communication that people create, send and receive in groups. Faculty focus on teaching approaches to effective communication within an organization, analyze how communication affects the organization, and methods of communication that facilitate a high-performing and more efficient organizational culture.
Career Ready. Day One.
Northwest ensures students are career ready, day one through internships, field experiences and networking opportunities. Read Sydnee's story »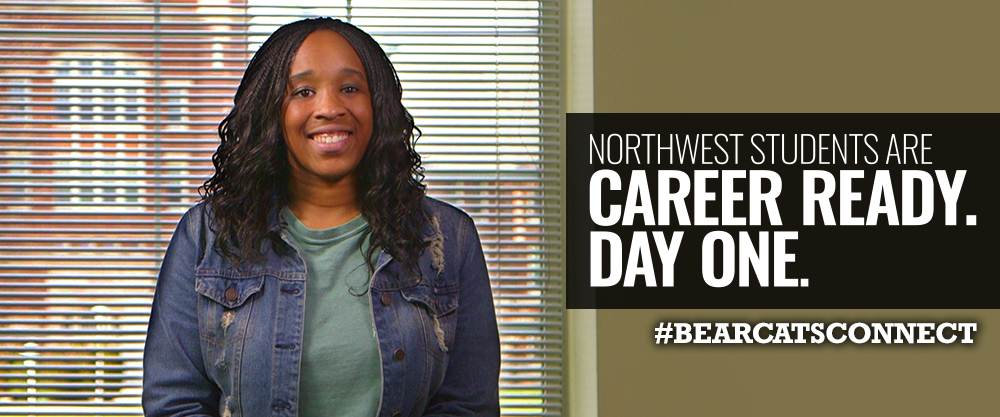 Career Opportunities
96%
placement rate
More than 96% of students who graduate with a degree in organizational communications obtain employment or continue their education within six months after graduation. Job titles related to this major include:
Human resources director
Training director
Instructional specialist
Group process facilitator
Employee division specialist
Director of corporate communication
Communication director
Communication specialist
Consultant
Survey specialist
Mediator
*Based on self-reported data in recent years.
Internships
Internships are required with this major. Northwest offers many on-campus internships in addition to opportunities to network and gain internships with regional and nationally known agencies. Northwest organizational communication students have landed internships at agencies and organizations including:
Federal Reserve Bank
United State Marine Corps
Missouri State Senate
Sprint
Kansas City Chiefs
Kansas City Sports Commission
Clarinda Academy
Mozingo Lake Golf Course
Northwest Office of Human Resources

Working with the York Parks and Recreation in York, Nebraska, I couldn't have imagined a better internship. I connected with a variety of people from the town, showed some of my own creativity, and strengthened my leadership skills. As one of my main duties, the month of June was dedicated to the York Youth Summer Camp. I planned four weeks of camp, and packed them full of fun games, crafts and delicious snacks that went with our theme each week. This picture displays my last day of Summer Camp with all the campers. You can see just how much fun we all had!

Abby Haarmann


I got the opportunity to work for the National Multiple Sclerosis Society Gateway Area Chapter in St. Louis, Missouri, as the marketing intern. I worked with the multiple sclerosis young professionals for their fourth annual Night on the Greens event. This event featured a glow-in-the-dark golf tournament and party raising critical funds for research. This picture is of the St. Louis sunset on the Highlands Golf Course in Forest Park during the event.

Michaela Keller

Study Abroad
Study Abroad is an opportunity for students to apply hands-on international experience to their own academic development. Faculty members supervise short-term study abroad programs that prepare students before, during and after the program. Two types of study abroad programs are available – faculty-led and traditional study abroad.
The traditional program may be a semester, summer or year-long program and is taught by Northwest's international partner institutions.
The Northwest Difference
Founded in 1905, Northwest is a traditional campus with more than 7,200 undergraduate and graduate students. Located in the middle of everywhere, Maryville is two hours from Omaha, Nebraska and Kansas City, Missouri and 2 ½ hours from Des Moines, Iowa.
Students organizations, internships and profession-based learning experiences ensure students are Career Ready, Day One.
Learn more
Graduation Rate: 89th percentile of Northwest's national peer group.