Ticket Sales
Please check back later for more information regarding ticket sales for Homecoming 2015.
For advance ticket purchases call the Northwest Student Services Center at 660.562.1212.
For information about Football Game tickets and prices for students and community members contact Student Services at 660-562-1212 or visit the Bearcat Athletics Website.
Variety Show
Football Game
Northwest Students FREE with valid Bearcat card
General Admission ticket prices vary
Volleyball Game
Bearcat Zone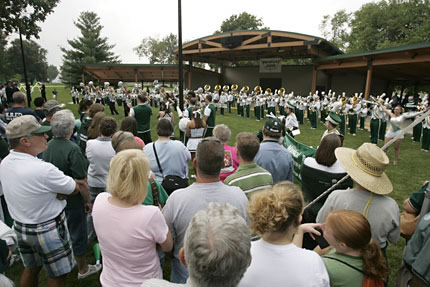 The Bearcat Zone is an open-attendance tailgate party taking place prior to each Northwest Missouri State University home football game. Each Bearcat Zone begins two and a half hours (10 a.m. for a 1 p.m. game) before game time in College Park and the adjoining parking lots. College Park is located along College Park Drive across the street from the west entrance to Bearcat Stadium. Admission is free.
At the Bearcat Zone visitors will find food provided by Campus Dining, along with the Bearcat Bookstore offering a variety of Northwest memorabilia. In addition, children can have their picture taken with Bobby Bearcat in an actual football/cheerleading uniform. The Northwest Alumni Association and other organizations also have informational tables set up.
Each pavilion concert lasts from 11 a.m. until noon and will be followed by a pep rally featuring the Bearcat Marching Band, Steppers and Cheerleaders.